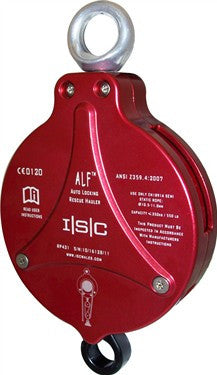 RP431A-R-ALF Rescue Locking Pulley with Becket Eye and Sealed Bearing
The R-ALF Pulley is the latest innovation in Rescue, Confined Space working and Work Suspension Systems.

The R-ALF Pulley has an over-speed brake built in so that the Pulley will lock on and hold when a fall occurs. The load rated Becket Eye on the R-ALF means that it can be used in combination with Prussik Pulleys to create a 3 : 1 or 5 : 1 Mechanical Advantage System.
The unique design of the R-ALF (design patent applied for), means that an internal brake is not required and therefore it is capable of several thousand cycles and many arrests (minimum 12 mothly service intervals apply).
Weight (grams) 1200
Weight (ounces) 43
Rope diameter range (mm) Approved 11mm EN1891-A Ropes Only
Number of persons 2
Body material Aluminium
Finish Anodised
Colour Red
---
We Also Recommend
---